Over 25 rafting guides, crew members found Corona-positive so far in Rishikesh, casting shadow on rafting – Times of India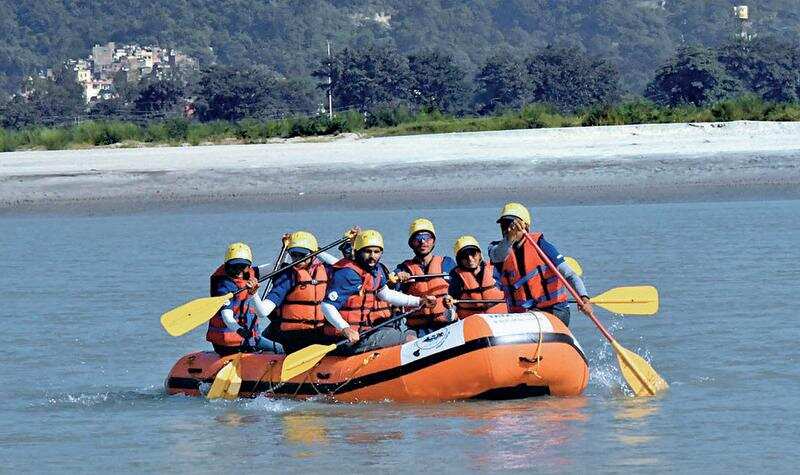 Rishikesh: The rafting business in Rishikesh, which resumed only last month after a nearly six-month long break due to the pandemic, has found itself in troubled waters, as over 25 guides and crew members have tested Covid-19-positive in the past few days. As a precautionary measure, the Tehri district administration has launched a Corona-testing drive for all those involved in rafting activities.
According to the administration, four teams have been formed to conduct testing and around 700 guides and crew members have been identified for testing.
The peak season of adventure sports had been lost to the lockdown imposed in March. Adventure tourism was allowed to resume in the state on September 26. Rafting reopened with restrictions (only four persons were allowed on a raft with waterproof masks and other safety gear). Adventure lovers started turning out in encouraging numbers and operators were hopeful of a decent footfall during the festive season. Now they are afraid that the news of rafting guides testing positive will harm business.
The rafting association said that even though all precautions, including social distancing, regular sanitisation and wearing masks were followed, rafting guides and crew members somehow contracted the virus.
Sub divisional magistrate (SDM) of Narendra Nagar Akanksha Verma told TOI, "With 25 rafting operators testing positive and around 700 guides being identified for testing, we have asked more members in the business to come forward to get themselves tested. We haven't received a good response so far, so we will target check points to conduct tests. Not only rafting guides, workers employed at camping sites and hotel staff members are also being tested."
"The good news is no big corona cluster has been detected so far. Only a hotel in Tapovan area, where seven people tested positive for the virus, was closed down for 48 hours," Verma added.
The rafting association meanwhile has requested the administration not to disclose the reports of rapid testing, saying it will create panic among enthusiasts and stop them from coming to Rishikesh. "We are ready to co-operate with the testing but the reports should not be made public. It will create panic and ultimately damage the rafting and camping business, which is only getting back on its feet," Dinesh Bhatt, president of the rafting association, told TOI.