Corona del Sol finishes 8-0, tops Mtn. View – azpreps365.com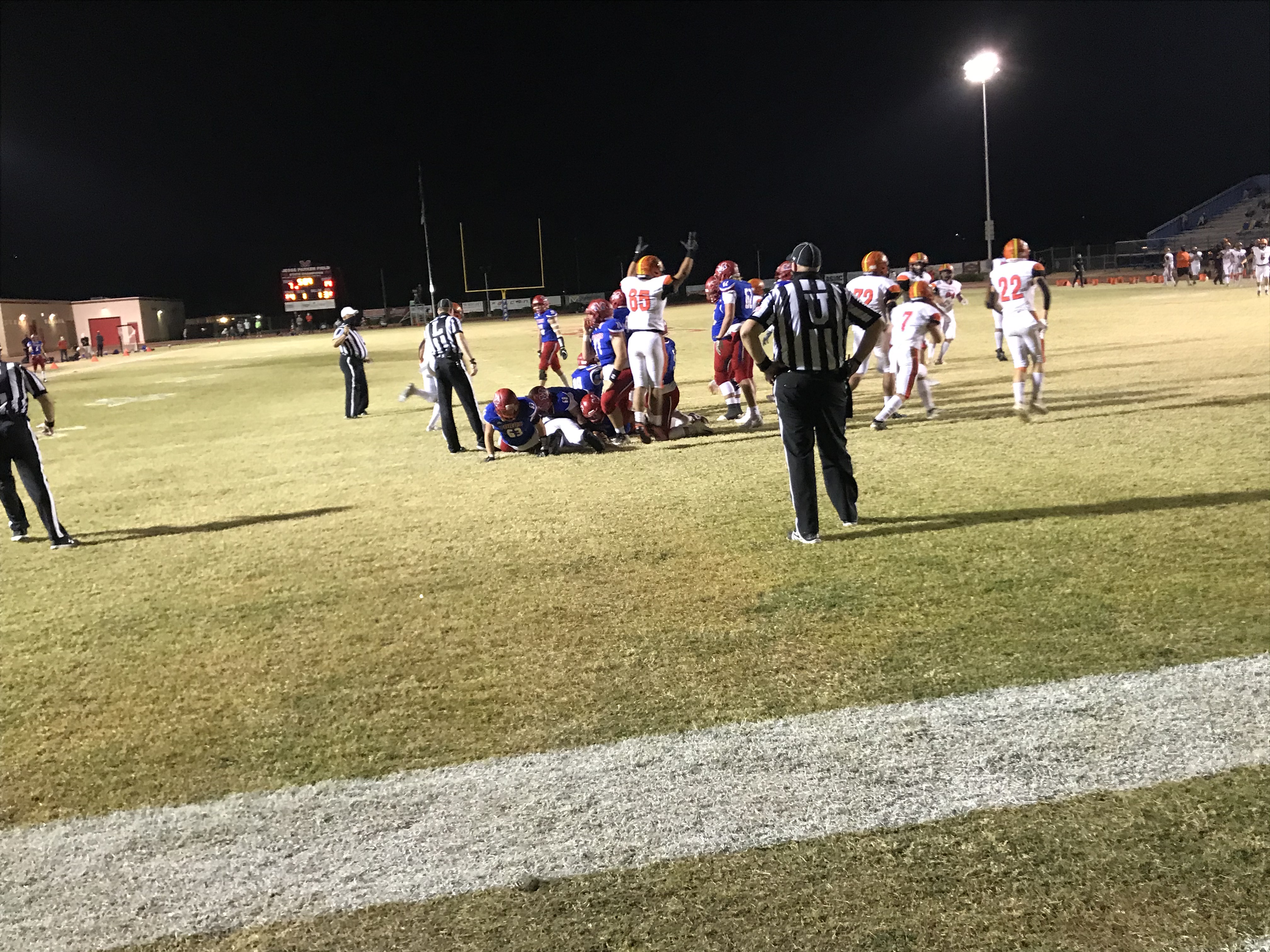 Corona del Sol's defense celebrates after a 4th-down, goal line stop of Mountain View. The Aztecs completed a perfect 8-0 regular season. with a 28-7 victory. (AzPreps365 photo)
A perfect regular season – shortened by COVID-19 or not – is something to be proud of. Corona del Sol made that happen Friday night excelling in all facets in a 28-7 victory over Mountain View at Jesse Parker Field.
Corona del Sol finishes the regular season 8-0 – the first perfect regular season in school history that covers 40 years. Mountain View, which was sitting pretty in the race for postseason at 6-0 two weeks ago, fell to 6-2,. The Toros must wait and see if they get a playoff nod come Saturday morning.
Corona players welcomed coach Jon Becktold to its end zone huddle after a television interview with chants of "Becktold, Becktold, Becktold". Becktold gave them a quick reminder to ground them.
"All you did tonight is get to where you were last year," he said.
That wasn't to totally dampen the festive spirit of accomplishment. And there has been accomplishment in Becktold's four-year tenure. The first two season produced a 3-17 record. Last year saw a 4-6 record and a playoff berth, albeit a one-round stay. The Aztecs want more this year.
Two first-half rushing touchdowns from quarterback Quade Swearingen, rock solid defense for 48 minutes including a goal line stop on fourth down at the 1 and interception in Mountain View's end zone keyed the triumph.
"There's a lot of fight over there," Jon Becktold said, pointing at his victorious players. 'We have a strong senior class that is leading us, and some good juniors. The defense was outstanding tonight."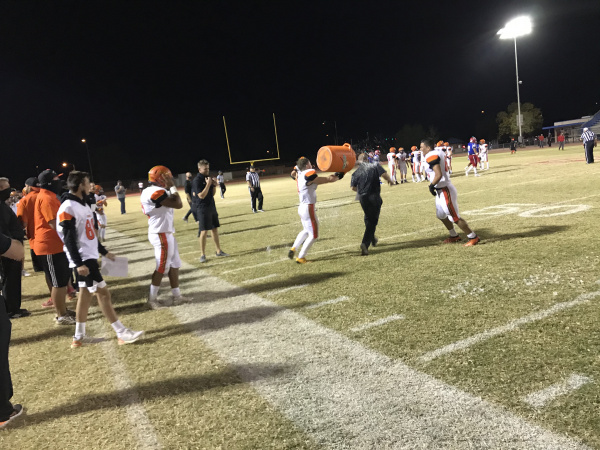 Corona del Sol coach Jon Becktold gets the Gatorade treatment as time expires in win No. 8 (Azpreps365 photo)
Corona built a 14-7 lead at halftime using Swearingen touchdown runs of 18 yards late in in the first quarter and 7 yards late in the second. In between, Mountain View managed a 7-7 tie thanks to a 50-yard TD interception return by Toros safety Matthew Clark.
The second half could have tilted Mountain View's way, but Corona del Sol's defense took care of that midway through the third period. The Toros marched 87 yards in 17 plays to Corona's 2. An offside penalty on fourth-and-2 moved the ball to the 1. Corona 's defensive front converged on quarterback Zac Majorczak trying to squeeze up the middle and stopped him inches from paydirt.
The beginning of the end for Mountain View came with 7:15 left. Pinned inside its 3 after a punt, Majorczak attempted to throw from his end zone. He was hit as he threw by the Aztecs' Tudor Georgescu. The ball fluttered to the goal line where 6-foot-4, 285-pound lineman Elijah Sayers snatched it and was tackled just inside the goal line. That made it 21-7. With Mountain View's offense sputtering that was enough to finish.
Corona running back Anyale Velazquez, a hard-running 6-1, 225-pound junior, helped wear down Mountain View in the second half with tough and mostly short runs. Velazquez rushed 24 times for 94 yards to come close to a 1,000-yards for the year.
Corona added a final touchdown after a short Mountain View punt with three minutes to play. On fourth-and-8 at the Toros 28, Swearingen connectedwith Talon Williams in stride on a post pattern for the final points.
All teams find out where they stand Saturday morning when the final rankings and playoff pairings are presented on the AIA Saturday Morning Radio Show on – 1580 AM The Fanatic. The Football Bracket Show will be part of Radio Show. The Football Bracket Show can be seen on live stream on AzPreps365 from Dave and Buster's Tempe Marketplace.
Here is the schedule for the Radio Show and bracket releases: 8 a.m. Radio show begins; 9:00 – Bracket show begins with introduction; 9:15 – 2A bracket revealed; 9:30 – 3A bracket revealed; 9:45 – 4A bracket revealed; 10:00 – 5A bracket revealed; 10:15 – 6A bracket revealed; 10:30 – Open Division bracket revealed; 10:45 – Wrap up